Awards and Accomplishments
ONC's Consumer Health Data Aggregator Challenge
August 1, 2017
First place winner – MyLinks® is a cloud-based application that makes it easy to gather, manage, and share patient data using several methods including FHIR® and Direct messaging, a method of sending authenticated, encrypted health information directly to known, trusted recipients over the Internet.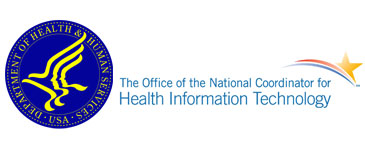 Debi Willis named among leading innovators in Healthcare IT
June 27, 2017
Health Data Management – A number of HIT executives, policy makers, and industry innovators are leading the digital disruption of healthcare. In the following list, Health Data Management editors profile some of these visionaries who are seeing new and better ways to use cutting-edge technology to improve patient care.
Health IT Innovators Present MyLinks at Health 2.0 11th Fall Conference
September 28, 2017
Debi Willis will be presenting MyLinks at the Health 2.0 conference along with Dr. Don Rucker of the ONC, Paul Black CEO of Allscripts, Ryan Howells of the CARIN Alliance, and several other prominent Health IT leaders. She will demonstrate how a patient can pull and aggregate their clinical data from Cedars-Sinai and New York Presbyterian, who use different EHRs. She will also demonstrate how patients can send data from MyLinks to any provider. MyLinks uses the newest interoperability standards to help patients gather and share their medical records among their full care team. MyLinks also enables patients to link with other patients and researchers – with a goal to save lives, lower healthcare costs, find cures faster, and bring a much better experience to both patients and caregivers.

HL7® Partners In Interoperability
December 7, 2017
First place winner – MyLinks, a consumer-facing application, chosen as best presentation.

The AllScripts® Developer Program has honored PatientLink Enterprises® with the 2018 patient engagement award!
May 21, 2018
Our dedication to improve patient engagement began 20+ years ago, when we invented the process of collecting and sending structured patient data into EHRs.  By removing burden of data entry, providers can do what they do best – care of their patients. Patients' needs are continually evolving – and so are the solutions we offer.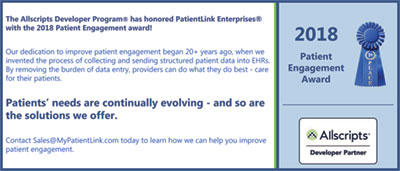 Allscripts® Open API Patient Engagement Challenge Runner-Up and January 2017 App of the Month
February 24, 2017
PatientLink, an innovative software development company, was chosen as one of the winners in the Allscripts Open API Patient Engagement Challenge for its new patient engagement application, MyLinks.
"It was such an honor to be chosen," said Debi Willis, PatientLink CEO and Founder. "Partnering with the Allscripts Developer Program (ADP) has provided so many opportunities for us to showcase our products. We greatly value our partnership because of Allscripts' client focus, intelligent APIs and the ease of doing business with the team."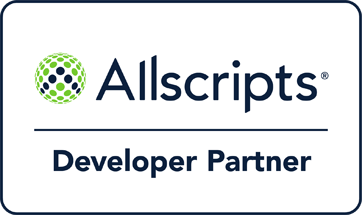 App developers demo ways to capitalize on emerging data sharing standard
March 21, 2017
Health Data Management – While Health Level 7® International's Fast Healthcare Interoperability Resources (FHIR®) is still emerging as a mature standard, app developers have widely embraced HL7's FHIR in many current use cases.
Health IT vendors see FHIR as a critical component to solving the complex interoperability challenges that are confronting healthcare organizations. Ultimately, they view their respective efforts as creating an ecosystem of third-party apps that will serve to increase consumer access to their health records through the open FHIR application programming interface.


"The real part about patient empowerment, is patients armed with their data. That is the ultimate part of this. Patients can take their data and take it somewhere else, and do with it what they want."
– Dr. Donald Rucker
National Coordinator for Health Information Technology, December 6, 2017 HL7® Partners In Interoperability