We are partnering with the VA!
MyLinks is pleased to announce our partnership with the U.S. Department of Veteran Affairs (VA) in providing over 9 million veterans with a FREE application to download and aggregate their medical records from the VA and non-VA health systems.
Veterans, we know it is difficult to manage your health care when your records are fractured over multiple health systems. MyLinks allows you to import your records from all VA health care facilities, VA outpatient sites, VA hospitals and over tens of thousands non-VA clinics into your own "mini electronic medical record" fully owned and controlled by you. You can also share your records with whomever you wish. This single view makes it easier for you to understand your complete health status and helps you coordinate your care among your multiple physicians.
We built MyLinks to allow you to access and store your records from any smart phone, PC, tablet, or laptop. All you need is an internet connection. MyLinks is mobile-responsive so it looks nice on any device. You can also import your important documents to make sure they are available to you at any time when you need them. You can also connect your devices, view your calendar, keep a journal, and manage your family medical records from a single login.
All data is encrypted and kept in secure HIPAA compliant servers. We do not sell your data and do not have advertisements. Our belief is that patients having access to and ownership of their own health records will help save lives. We are grateful for all you do to protect our freedoms and provide services to those in need. This is our way to help you. Thank you!
Simply go to MyLinks.com to sign up for a free account.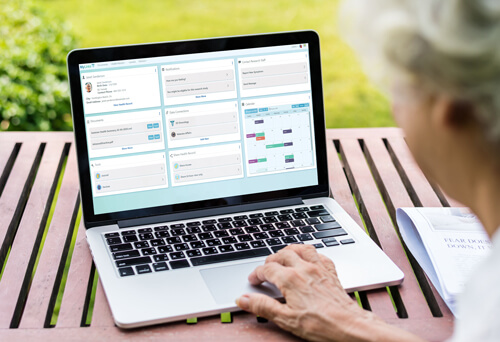 You can read more information by checking out MyLinks educational materials.
Check out the announcement about VA's partnership with MyLinks. Here is another article about accessing data with MyLinks.

Debi Willis is a HIMSS member and CEO / Founder of PatientLink Enterprises in Oklahoma City, OK. PatientLink's newest innovation is MyLinks®, a multiple award-winning patient facing app that uses FHIR to allow patients to collect and send their health data to providers, researchers and others.